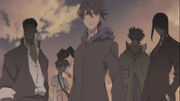 A list of all the characters in the
Tokyo Majin Gakuen Kenpucho
universe.
Anime CharactersEdit
Main
Supporting
Yukino Oribe
Hinano Oribe
Morihito Inugami
Takako Iwayama
Maiko Takamizawa
Alan Claude
Ryuuzan Arai
Doushin Narasaki
Tougo Narutaki
Ukon Yatsurugi
Enemies / Antagonists/Deuteragonist
Minor / Background
Sera Rikudou
Kyoushirou Kamui
Detective Mikuriya
Ryuuta Yotsugi
Azumabashi
Big Mama
Angie
Koni Fernandez
Yuuko Kugayama
Non-Anime CharactersEdit
Supporting
Haruaki Mikado
Fuyou
Misa Uramitsu
Shikou Murasame
Liu Xianyue
Arisa Fujisaki
Hyougo Shigure
Moroha Kirishima
Sayaka Maizono
Eri Amano
Kayo Hiyuu
Cosmo Rangers
Takeshi Akai
Hayato Kurosaki
Momoka Hongou
Enemies / Antagonists/Deuteragonists
Eiji Shirou
Ryou Mizuki
Sara Thoth
Ewan Nicholas
Tony Washington
Gilbert Rouzes
Izou Sakuma
Ad blocker interference detected!
Wikia is a free-to-use site that makes money from advertising. We have a modified experience for viewers using ad blockers

Wikia is not accessible if you've made further modifications. Remove the custom ad blocker rule(s) and the page will load as expected.